Some Easy Ways To Handle Picky Eaters At Home
Toddlers these days are quite picky when it comes to food and this makes their parents worried about the over all health of their kid. Parents also tend to get concerned about their habit of binge eating unhealthy food and ignoring the healthy food & other healthy eating habits. Also, it has been noticed that typically preschoolers have the habit of fussy eating.
So, here are few tips for parents which will help in inculcating healthy eating habits in their kids.
Make A Healthy Routine
A healthy routine will ensure that your kid is having food at the right time throughout a day. You can include some snacks time, fruits time, veggies time to make sure that your toddler is getting enough nutrition he needs. Respect your child's appetite and make this diet routine according to that.
Boring Food
Sometimes, giving vegetables to your toddlers again and again, makes them feel that their food is boring and tasteless. You can make the food presentations interesting so that your kid finds it attractive. Parents can inculcate the habits of healthy eating in their food by making a veggie-fruit chaat in the shape of their favourite cartoon. By carving some cartoon faces on the food can make it appear mouthwatering to them.
Encourage Grocery Shopping With Your Kid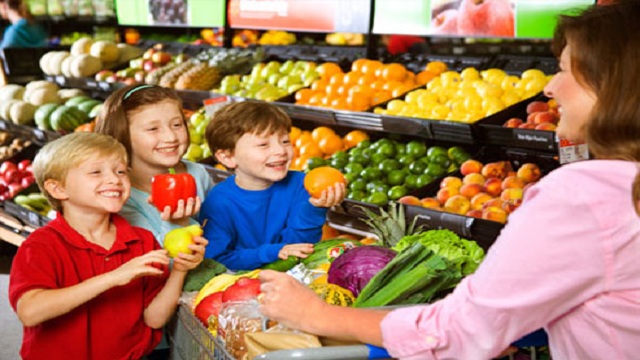 Make your toddlers come with you at a super market store for purchasing food items. Let your child select the veggies according to his choice. Tell him that you will cook his favourite veggie in a new style. Try to do some fun experiments with food. Your naughty preschooler will surely relish the food of his choice.
Reducing Distractions
It is very essential for parents to turn off a TV or any other gadget which your child is using while eating. Make strict rule for children to follow while eating. This will help your kid in focusing on their food properly.
Never Be A Short Order Cook
When you serve the food to your child always make sure that your child eats what he has been served with. Never allow your toddler to order you to cook another food item for him. This will in turn encourage picky eating. Ask him to eat the same food without letting him go hungry. With this, you can encourage your kid to follow healthy eating habits.
Providing A Balanced Meal
Children often feel that they are being served with the same old food. So, it is important for you to first keep a record of your child's favourite food. Then add a little portion of that with the regular meals. Provide a balanced meal to your toddler. Add food items containing enough proteins, nutrients and vitamins in their daily diet. Follow a balanced approach by giving your kid some sweets as well.
So, these were some strategies you can follow to handle your picky eater at home. Pay full attention towards your toddler and help him inculcate healthy eating habits.