What is Gluten in Gluten Free Diet?
Gluten is a protein which is normally found in rye, barley, wheat and it is also a component of various ingredients which are found in daily foods. It provides food with its shape, elasticity and binds it together. A survey said that add gluten free diet will assist in weight loss. Today, celebrities and the normal people follow the gluten free diet. And in the market, the sale of gluten-free food is increasing since earlier days.
Foods That Contain Gluten
Wheat flour is the main food which is consumed by most of the people. It consists gluten and other ingredients like seasonings and spice mixes. Here are some few foods which have gluten
Pasta/noodles ( egg noodles and ramen)
Wheat ( all wheat-based flours, couscous, farina, and farro)
Cereals
Bread (bread crumbs, croutons)
Sauces ( salad dressings, soy sauce, and malt vinegar)
Flour tortillas
Baked goods (cakes, muffins, cookies, pastries)
Soup broths
Beer
What's the Difference Between Gluten-Free and Wheat-Free?
Almost all the gluten-free foods will also be wheat-free. But wheat-free foods may contain gluten in the sort of rye or barley.
Here are some Naturally Gluten-Free Foods which help in weight loss.
Avocado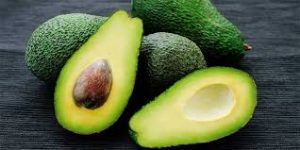 Avocado is a creamy, low-carb fruit which has a good amount of fiber, potassium and healthy fats. A study shows that adding avocado in your diet will keep you fed fuller up to 4 to 5 hours. You can add this fruit in your toast or in the salads too. But have this fruit in smaller amount because it is calorie-dense, so look out for portions.
Whole Grains
Most of the grains are gluten-free include wheat, rye, and barley which you don't have to avoid. So, add some whole grains to your diet like:
Brown Rice
All the type of rice are gluten-free but if you are looking for weight loss then add brown rice to your diet plan. Brown rice has a good amount of vitamins and minerals, plus fiber as compared to white rice. Brown rice is a good source of slow-release carbohydrates and also lower on the glycemic index (GI) scale than white rice. Consumption of brown may lower the risk of developing type 2 diabetes.
Quinoa
Quinoa is a good replacement for pasta & breakfast cereals. A cup of cooked quinoa has a good amount of protein, fibre, vitamins and several minerals like magnesium, potassium, calcium.
Cauliflower
Cauliflower is also a gluten-free food. You can have this veggie with mashed potato or in the toast. Another delicious recipe is cauliflower rice, you will definitely love this one.
Spices
There are many spices are which are gluten-free include:
Chili Pepper
It is one of the primary flavours which is almost found in the Indian food. Indian cuisine is the best option for the gluten-free meal. You can sprinkle on the veggie salad only a pinch for the taste.
Turmeric
It is a golden spice which adds flavour to the foods. It is a member of the ginger family, which is used as medicines in India.If you are purchasing dried turmeric, then double check the label that it will be gluten-free or not. Most of the brands are safe but some can add other products which have gluten. You can consume turmeric by adding in the milk which also works as a medicine.
Meat, Fish, Poultry, Dairy, and Eggs
All of these foods are come under gluten free diet; it's only when sauces, toppings, sides are added to the mix that you need to keep an eagle eye out for gluten. Protein is essential for repairing and building muscle; it's also more filling, takes longer to digest, and requires more energy to metabolise.
Gluten is not an enemy until you are suffering from celiac disease or a wheat allergy. Avoiding gluten is the best option for weight loss. Several naturally gluten-free foods will be filled with a variety of nutrition and act as a balanced diet, which plays an important role in weight-loss.