Some Delicious Snacks For After Workout
The right training plan and the perfect workout both is crucial if you are looking for a losing weight. But add on, don't miss to add post workout food which also plays an important role in weight loss. If you treat yourself with a pizza or burger after any workout, then you will never lose a single kilo or pounds. After your workout, you must have to consume the good mixture of essential nutrients like Carbohydrates, it provides you energy and protein is also important for strong and firm muscles. And don't miss the healthy fats which are also important for weight loss. If you really want to lose weight, then you have to consume post workout food. Here are some snacks which you can try after your next workout. Scroll down!
POST WORKOUT FOODS :
Bananas with peanut butter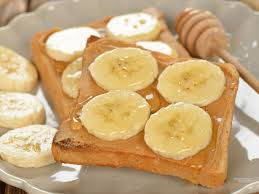 If you want to eat something after your workout, then try to consume a banana with 1 or 2 spoons of peanut butter. But try to consume pure peanut butter which doesn't have additive sugar or palm fat. The bananas have a good amount of potassium, carbohydrates, & magnesium. And the peanut butter consists of proteins and fats. These are crucial nutrients which is work after your workout.
Baked sweet potato and egg
Baked sweet potato and egg are the perfect blend of snacks which will provide you macronutrients, which you really need after a workout. These both food are rich in protein which your body essentially need this.
Greek yogurt with berries
It is delicious snacks which are rich in protein and also low-calorie food. Greek yoghurt contains a high amount of protein and the berries like strawberries, blueberries, raspberries have low carb and low calorie but have a good amount of antioxidants.
Fill a glass with yogurt for the perfect snack & enjoy it in a breakfast or you can add some oats.
Cottage cheese with vegetable sticks
If you are looking for a delicious snack after a workout then plain cottage cheese is one of the best options. It has a high amount of protein. You can consume it with some veggies like carrot or cucumber sticks. For adding more taste sprinkle some grated vanilla or cinnamon over it. Cottage cheese has lots of leucine, it is a kind of amino acid which boosts muscle protein synthesis after the workout. It will help in more weight loss.
Post-workout shake
You can make a perfect shake of a Peanut butter and banana which will provide you lot of essential nutrients. Blend them with some milk, and with vanilla or cocoa. Enjoy this full of nutrients shake after workout shake. Try to avoid adding artificial protein powder.
This aforesaid healthy snacks will work as wonder after the workout. You must add any of the snacks according to your taste in your regular post workout food.